Millions suffer poor care due to overstretched NHS and social care staff
New polling from Engage Britain shows that one in four adults say they, or an immediate family member, have received poor NHS care due to workforce problems. This polling was published in The Observer.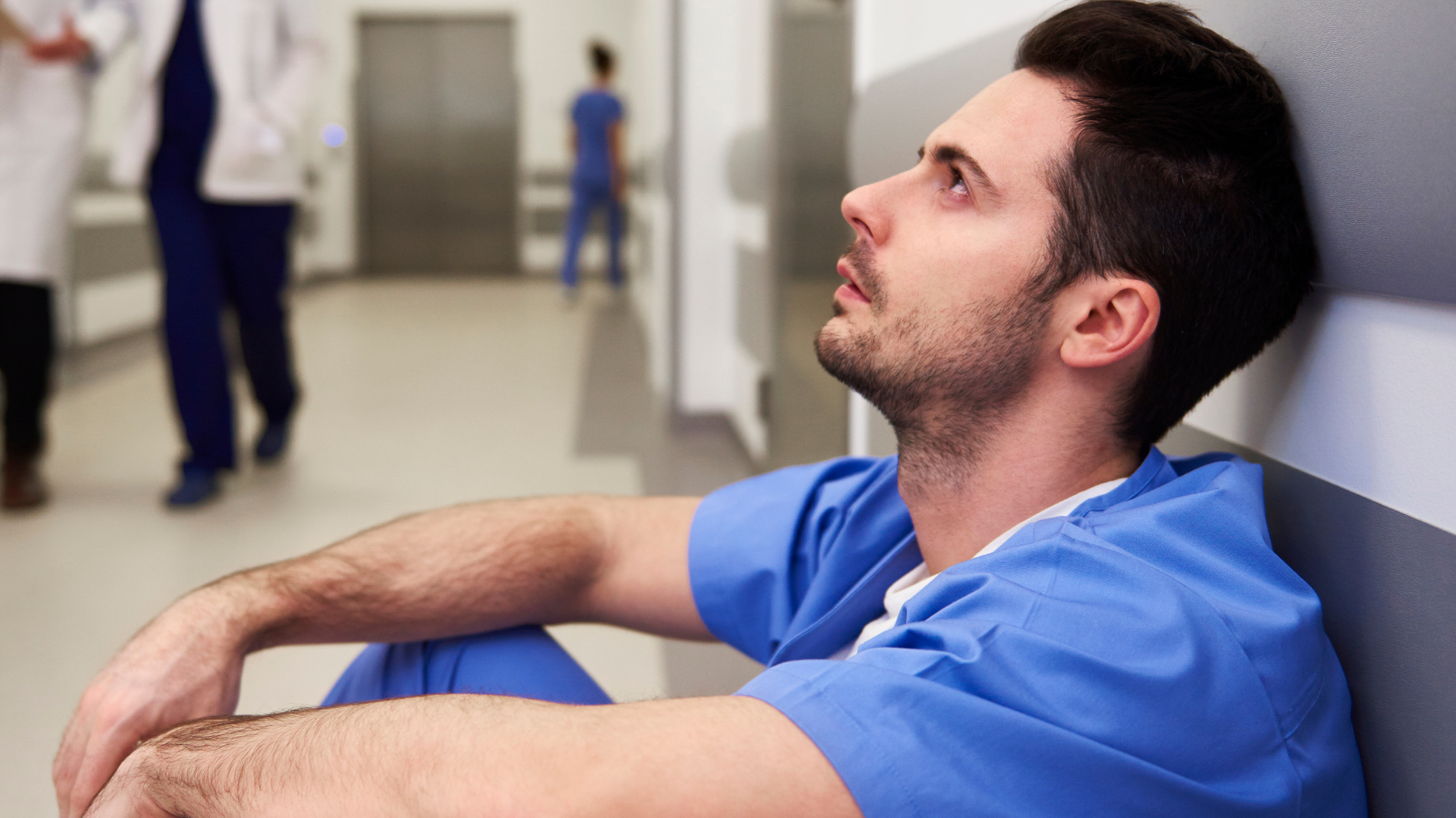 The People's Panel brought together 100 people to consider the health and care challenges being faced by the British public.
The Panel was then tasked with prioritising the issues raised. It found workforce issues to be the most pressing problem facing the country.
It also stressed the need to improve how patients are treated, along with more support for mental health issues and healthcare prevention rather than cure.
Engage Britain then conducted a national poll, to see if these concerns rang true across the country as well.
Staffing problems are causing poor NHS care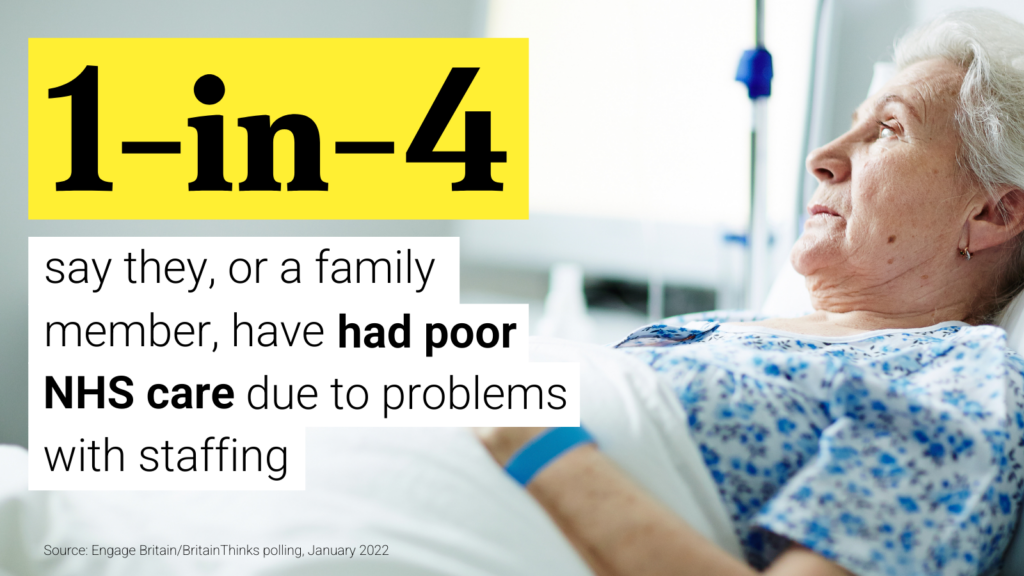 More than one in four adults (28%) believe they, or a family member, have received poor NHS care due to workforce problems.
This included workers being under too much pressure, a lack of staff or poorly trained staff. And leads to experiences becoming distressing when they don't need to be, as Jenny Bevan – a member of the People's Panel – knows first hand:
"Before my operation I'd been told to prepare for a two or three-night stay. But when I got to the hospital they seemed surprised and clearly didn't have a bed for me.
The surgery went well. But afterwards I was left in the recovery room for hours. There appeared to be only one nurse and as the day wore on, the number of patients grew and grew...
I was eventually transferred to a ward used for patients with dementia. I was in considerable pain but was told I'd have to wait for the doctor, as the nurse wasn't qualified to give strong painkillers…
The next morning I wasn't allowed to go to the bathroom and had to wash using a bowl by my bed. I was even inspected to make sure I'd cleaned myself properly. The whole experience left me traumatised and I have a genuine fear of ever going back."
More health and care workers needed to tackle the pandemic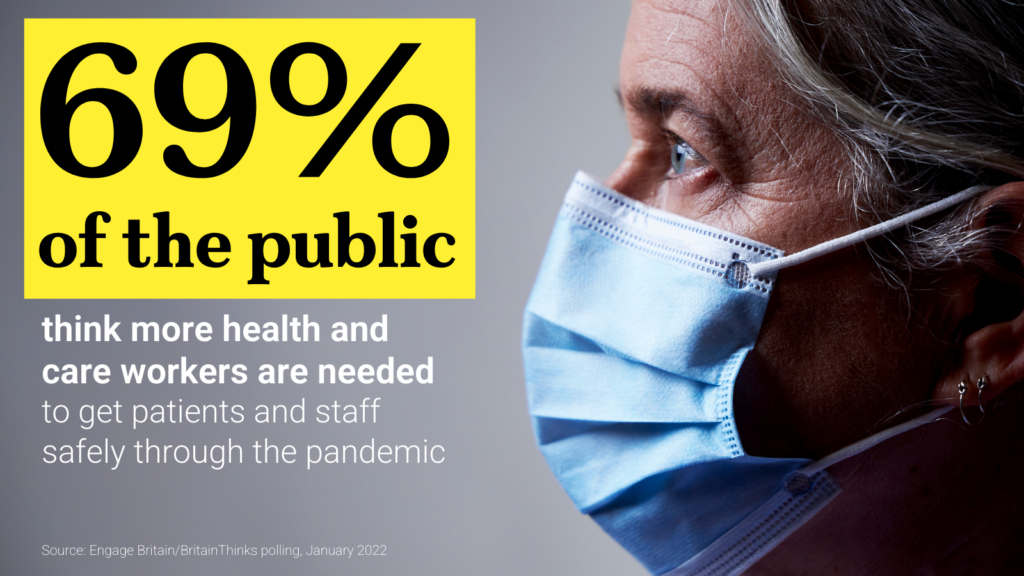 A massive 69% of the country think that we need to prioritise more health and care staff if we're to safely emerge from the pandemic.
This reinforces a key take-home message from The People's Panel. The failure to recruit, train and retain enough health and care staff means there are struggles to meet demand. Hear Panel members talk about this in their own words.
NHS staff leaving due to work-life balance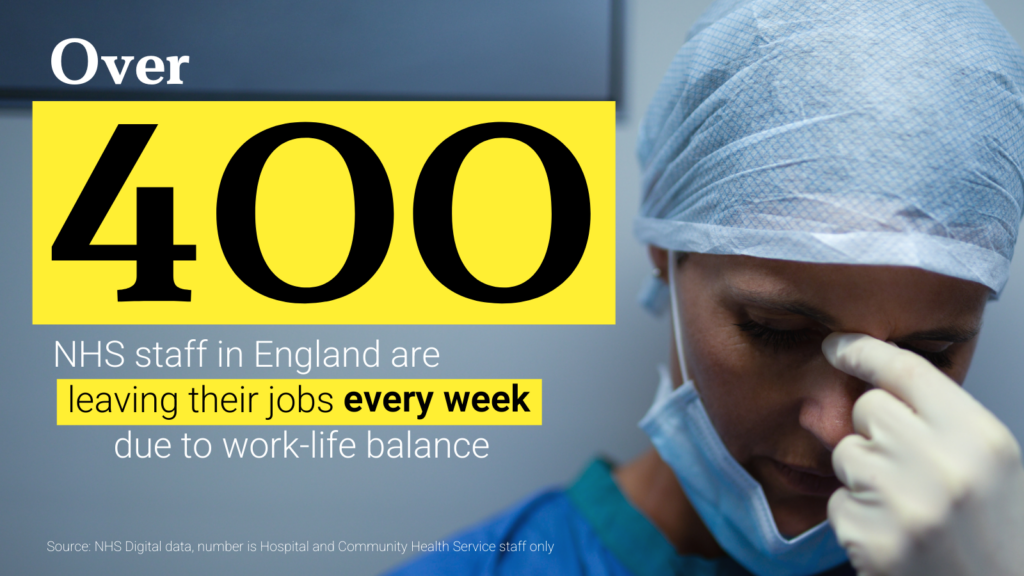 When the Engage Britain team took a look the latest quarterly NHS staff figures, the picture was worryingly stark. We calculated that over the last year an average of at least 400 staff a week in England are leaving due to problems with work-life balance.
There's an alarmingly high rate of turnover in the English social care workforce too. Skills for Care estimated that over a third (34%) of care workers left their roles in the 2020/2021 period alone.
Check out what staff members said about their experiences providing care, as shared during their Community Conversations.
Carer workers and nurses are undervalued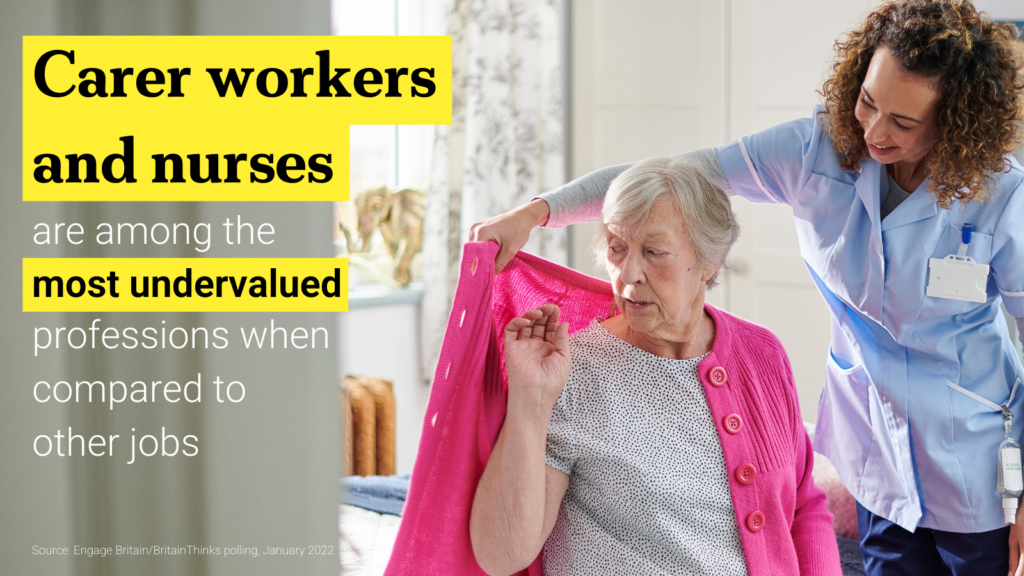 On a more positive note, people are at least sympathetic to the difficulties health and care staff face. Particularly while they battle through another winter with Covid.
As the graph below shows, care workers and nurses are ranked as two of the most undervalued professions by the country. And that's compared to other low-paying jobs in sectors like retail, hospitality, teaching and the civil service.
Why things need to change. And soon.
Engage Britain's director, Julian McCrae, sums up the situation:
"Frontline health and care workers are running on empty as they support us through the pandemic – and the British public wants to see them fairly paid and treated with dignity. At the same time, millions of people who need help from the NHS worry their care is suffering because of our hugely strained workforce.
NHS workers across the country have spoken to us about feeling overstretched, undervalued and struggling to get support in a chaotic system. Many also know being pulled so thinly means patients who need their support are worse off as a result – a lose, lose situation for everyone.
We can't allow staff to burn out while putting patients at risk of mistakes or spiralling downwards as they wait months for treatment. The government must act quickly to expand its promise of reform, based on listening to the people who use or work in the system every day. Only answers rooted in real experiences can deliver health and care that works for us all."
"Frontline health and care workers are running on empty as they support us through the pandemic."

JULIAN MCCRAE, DIRECTOR OF ENGAGE BRITAIN
What happens next?
In the third phase of Engage Britain's Health and Care project, a team made up of the public, frontline staff and decision makers will work together to find new solutions to these workforce issues. Only then can practical steps be taken to make health and care services work for everyone.
Check out our new paper, 'Involving people in policymaking', reflecting on The People's Panel process.
Methodology notes
Engage Britain conducted the People's Panel September – November 2021. The Panel was comprised of 100 randomly selected participants representative of the British public, who met over four weekends to reflect the views of people in England, Scotland and Wales. Their role was to listen, to discuss and to prioritise what health and social care issues matter most to people in Britain.
Number of weekly leavers for work-life balance reasons based on an average of the last four quarterly figures from NHS Digital's workforce data for September 2021 (January release). 20,834 NHS staff working in English Hospital and Community Health Services (excluding people working in primary care) had "voluntary resignation – work life balance" logged as their reason for leaving between September 2020 and September 2021.
Survey commissioned by Engage Britain and conducted by BritainThinks to investigate people's health and care priorities and assess the resonance of the final conclusions by the People's Panel. It was a nationally representative survey of 3027 UK adults. Online fieldwork was undertaken 26-31 January 2022. Data weighted to be representative of the UK population by age, gender, region, socioeconomic grade, and ethnicity.
To view the polling tables, click here.
For further details on the People's Panel methodology, click here.
For any analysis queries, please email Alasdair de Costa.
For any media queries, please email Freya Barnes.