How we'll get there: A four-step approach to change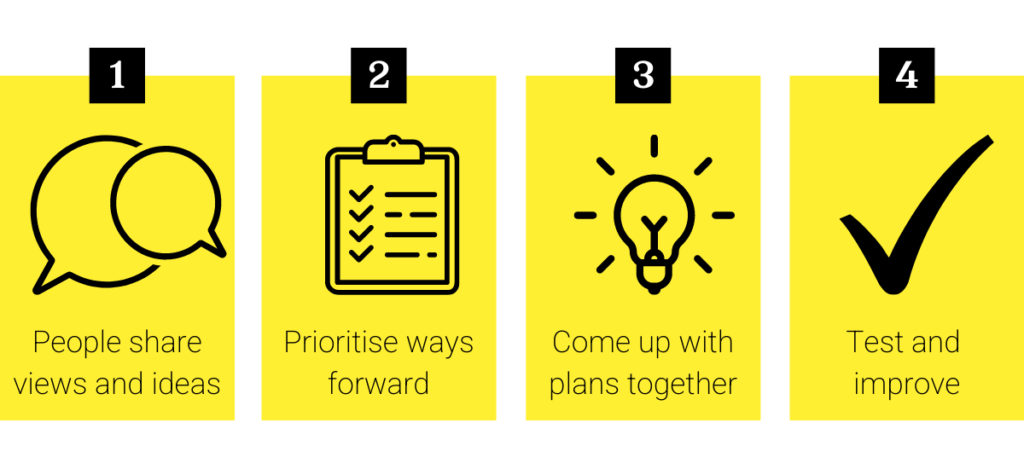 Here's a whistle-stop tour of how Engage Britain plans to bring people together.
Every step of the way, we're providing a space for individuals to engage with each other and turn ideas into action.
We're here to support vital changes you, and others across Britain, believe in and feel you can passionately get behind. So you are heard.
That's how we'll finally sort out some of our country's longstanding problems.
To keep things simple, we've broken the process down into four steps. But, as we all know, real life is often a bit messier!
We're applying this approach to tackle the country's health and care problems. No doubt things will get tweaked along the way.
Whatever it takes to unlock the best way forward on big national challenges that have been gridlocked for decades.
Step 1: Share views and ideas with each other

As many different people as possible are going to be supported by Engage Britain to share their views, ideas and experience on health and care.
Especially people who rarely get heard or aren't usually given the chance to put forward their perspectives.
To get that broad range of experiences, we're facilitating around 100 Community Conversations (of around 5 to 11 people each) all over the country.
Each conversation is an open space for people to share their experiences of health and care –what's working well and what could be better.
We're also going to be hosting three open conversations that anyone can attend. Or you can share views online via video or by filling in our short survey.
Would you like to share your views on health and care, take part in a conversation in your community or become a conversation host? Find out how you can get involved.
Step 2: Prioritise ways forward

After all the conversations have taken place, and we've collected together everyone's viewpoints online, we will set up a People's Panel.
The Panel will bring together about 100 members of the public from all walks of life, selected to represent the people of England, Scotland and Wales.
Across several sessions, they will listen to what's come out of the Community Conversations, the real-life stories shared online and hear from experts in health and care.
The People's Panel will figure out together what matters most to different groups. What are the most important challenges that we need to find answers to? And what trade-offs are people comfortable with?
That's how they'll come up with a first blueprint the whole country can get behind.
Step 3: Come up with plans together

Armed with the Panel's blueprint, it next needs to be turned into concrete plans for change. Plans that are practical, realistic and can be funded.
To do this, we'll use a process called 'co-design'. This means the plans don't come from any one individual. They are figured out by a group. We'll provide opportunities for all who wish to take part in coming up with workable answers.
Engage Britain will bring more people together to work out the best way forward on the issue. From frontline staff to politicians to people who receive care support.
Each of them will contribute their particular expertise or experience. As equals, they'll look at the ideas put forward from people around Britain.
As plans take shape, they'll go back to the People's Panel to make sure the ideas being worked on are true to the things that matter most to people across the country.
This will be the guiding light all the way through.
Step 4: Test and improve

Once draft plans are put together, they'll get tested out with the general public, people who work on the frontline and politicians with influence over health and care decisions.
No doubt there will be a few rounds of back and forth – getting feedback, making changes – to get the plans into the best possible shape.
We also expect that not everything will necessarily work the first time round. And when that is the case, there's the opportunity to go back to the drawing board and think again.
Throughout, it's crucial to keep listening to all points of view so there will be opportunities throughout this process to have your say, share your ideas and feed back on the plans as they are developed.
Because they will only make it over the line if everyone gets behind them.
The ultimate goal is for these plans – created by the British public – to be put into practice by government. So everyone gets the health and care they need.