Health and Care Survey 2021
British people's experiences and views
In Spring 2021, hundreds of people across Britain took part in Engage Britain's online Community Conversations about health and care. The experiences they shared offered new, in-depth insights into the state of health and care today, with some clear themes emerging. We then tested whether these issues are happening on a wider scale by surveying 4,000 people across the country. Here are the results of that survey.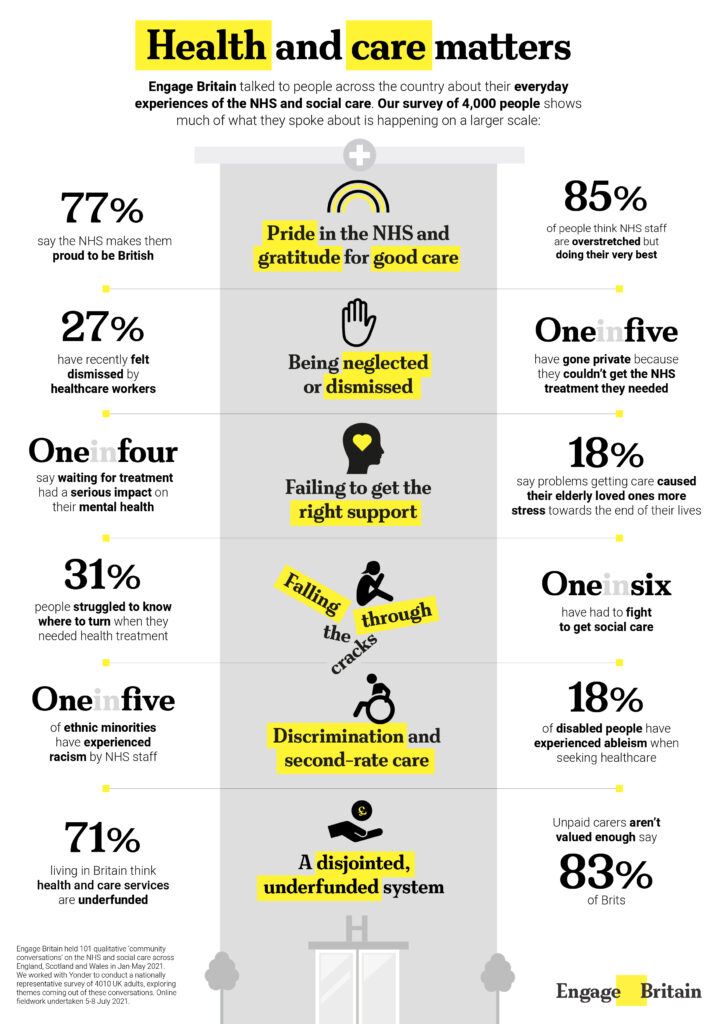 About this survey
Engage Britain has commissioned a nationally representative survey of 4,010 UK adults (18+).
The purpose of the survey is to explore how common experiences raised in the Community Conversations are and to explore views on health and care.
The survey was commissioned by Engage Britain and conducted by Yonder. Online fieldwork was undertaken 5-8 July 2021.
See the full results in the polling tables here.
Find out more about what we're doing on health and care

Engage Britain want health and care to work for us all. But how are we going to make that happen? We believe everyone should be part of making the big decisions that affect our daily lives… read more
What are Community Conversations? We asked people across the country to share their health and care experiences, to help bring…read more