What is the People's Panel?
Miriam Levin, Health and Care Programme Director, explains how the country's online Community Conversations became the springboard for practical health and care changes. To deliver this phase we were delighted to be working in partnership with Involve and Democratic Society.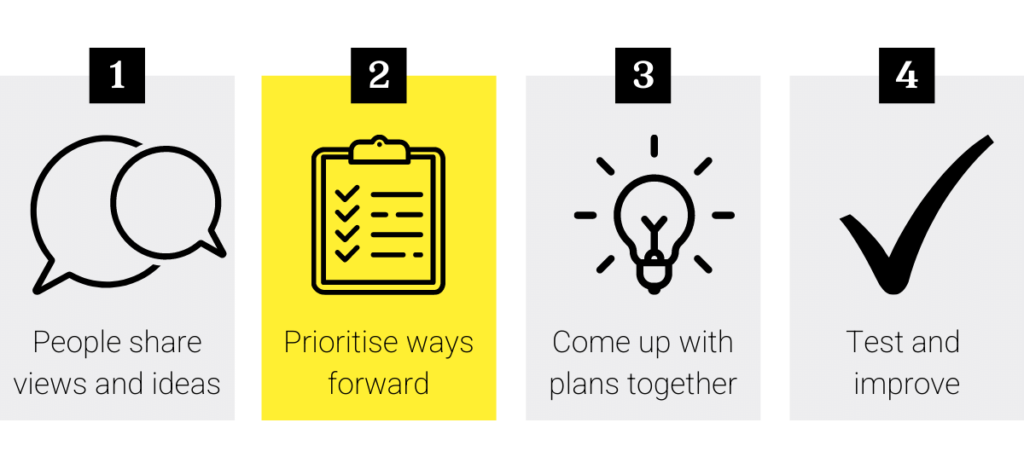 This was an exciting moment. A wealth of personal experiences had been gathered from 101 health and care Community Conversations across Britain.
The Community Conversations had revealed the different ways people all over the country were struggling with the system.
From patients getting desperate while they wait months for treatment. To an army of unpaid carers under stress as they fight for the care that their loved ones need. And overworked staff being pushed to breaking point.
And we then recruited a People's Panel to listen to all that's been said and work out what issues to focus on.
What is a People's Panel?
The People's Panel brought a hundred people together to help decide how we can make sure everyone in Britain gets the health and care they need.
The Panel broadly reflected everyone who lives in England, Scotland and Wales, with (randomly selected) participants from all walks of life.
They heard real life experiences of what's working well in health and care and what could be better – from patients, staff and people who run these services.
At the end of the process, the Panel prioritised the changes that would help the most people, and the people who need it the most.
How the Panel worked
The People's Panel met online over four weekends, between September and November 2021. There were three sessions each weekend, each lasting around two and a half hours.
As part of these sessions they:
Heard the stories, views and ideas that people shared in the Community Conversations, and shared their own
Heard from speakers – including patients, carers, people living in care, health and care experts, and NHS staff
Discussed issues with the other Panel members and weighed up what matters to people
Decided next steps to solve the country's health and care issues.
What happens after the People's Panel
Engage Britain will bring more people together in early 2022 – including frontline staff, patients, people who draw on care support, and those who decide how services are run – to design solutions together.
Ideas will be tested to make sure they make a practical difference to people.
Later in 2022, as plans take shape, the People's Panel will meet again. To make sure ideas stay true to the things that matter most to people across the country.
To find out more about Engage Britain's four-step approach to change click here.
Join the conversation
Want to help make Britain a better place to live in? Then sign up for our email updates now.
Be first to hear the latest news including:
Opportunities to have your say in discussions, debates and polls
New ways communities and politicians are working together
First-hand stories from people inspiring change up and down the country
We take your privacy seriously, and you can unsubscribe at any time.