"There are a lot of people who don't get any care. They're unpaid relatives. The country is saving billions on those people"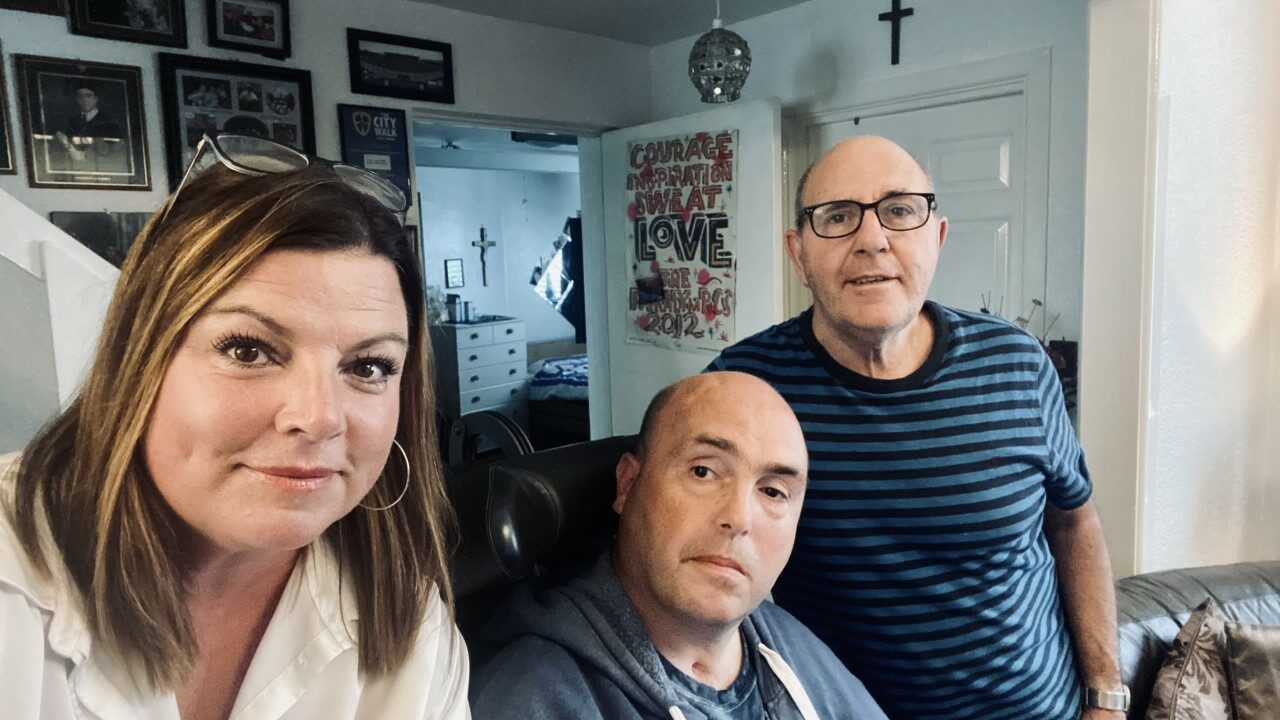 Matthew had a brain haemorrhage in his early twenties while attending university in London. The haemorrhage he suffered put Matthew in a coma for two years. Regrettably, it was preventable.
Matthew had sought medical care, but the doctors didn't catch the issue before the haemorrhage happened. Today, 28 years later, Matthew needs round the clock care.
The only respite care the family is offered is in an elderly care person's home. His father, Gary, is now 70. He wonders what will happen with Matthew when he passes, as Matthew's mum has already passed away.
Bernie, who joined the conversation, is Matthew's childhood friend.
"We were told there wasn't a lot of hope when Matthew first suffered his brain haemorrhage. The consultant came out and said there was a massive bleed in his brain, and that he'd be lucky to survive.
He did survive: but he was in a deep coma for years. It was a battle from day one. Still, Matthew hasn't had to do it on his own. You need a family member fighting your corner.
We searched and fought, like Bernie did. That's the only way you seem to get anywhere. By keeping on and on and on.
We said, would you rather be happy and still not be able to move? You know, what is it for you? What's the most important thing to you, your physical wellbeing? And he said his mental and emotional wellbeing was more important to him. I mean, if you can be emotionally fulfilled and happy and safe, then you can cope with any of this.
I think people think this may never happen to them. It doesn't even occur to them – what goes on behind the scenes. The fights. They just assume there are systems in place, medically and socially. That there will just be a pathway. What's the pathway? That doesn't exist.

There are a lot of people who don't get any care. They're unpaid relatives. And I think that's the biggest sin, really, of all. People are doing it for the love of their family. The country is saving billions on those people.
When it comes to money, they have to fight for the help when they need it. The place that I would be focusing on would be to support family caregivers – assuming they're the right family caregivers after being assessed – because they will have the solutions. They live the life and they walk the walk.
They know what that person needs, and know to have a person-centred approach. For example: what is going to make Matthew feel good enough about himself from the beginning? And is it focused on Matthew living his best life?
Gary says his biggest worry is what will happen when he passes away. "When I'm gone, where will he end up? Do I try to get people to come and live here and look after him? Or do I arrange that he lives in a home somewhere?"
You may also be interested in