Green Badge welcomed in Westminster debate
Social care minister, Helen Whately says she's sympathetic to the arguments for a 'green badge for care workers' – marking a huge moment for the first Engage Britain policy to reach Westminster.
At a debate in Westminster Hall on Thursday 16 March, at 3pm, the Minister of State for Social Care, Helen Whately, responded to MP Damien Moore's proposal for free parking for care workers. She committed to working with colleagues across government to explore what more can be done to help care workers with the cost of parking.
Whately encouraged local councils that are not currently helping care workers with parking to look at and learn from those that already have such schemes in place.
It marks a significant milestone in our push to have the 'Green Badge' adopted universally, one of our people-powered policy ideas which could make a meaningful difference to care workers right now.
The fact that MPs debated this idea shows us that powerful policy solutions can and should be developed by people with first-hand experience of the issues.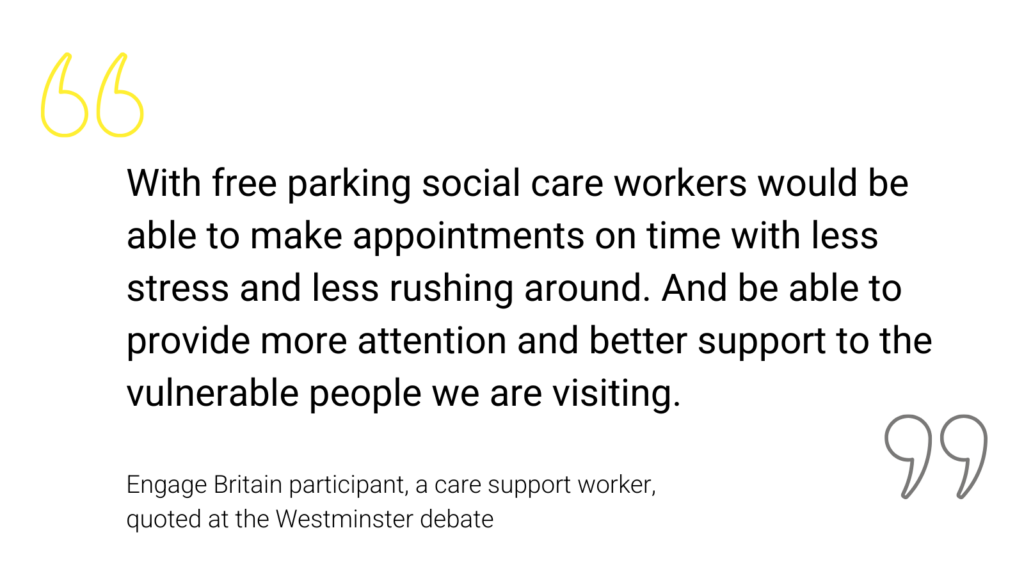 The motion was put forward by Conservative MP Damien Moore with contributions from Shadow Minister for Public Health Andrew Gwynne, Labour's Abena Oppong-Asare and Jim Shannon, DUP.
Green Badge also makes the radio
Well done to Zoe and Kat, two of our health and social care participants, who appeared on BBC Radio 4's Today Programme on Sat 18th March (tune in at 19mins) to talk about the idea of a national 'Green Badge' which they helped create, and the difference it would make for care workers.