About Engage Britain
Engage Britain is a new charity that brings people together to solve the biggest challenges facing our country. For too long politicians have made decisions without the input of the people who live with consequences of those decisions every day – and the result is a failure to properly sort out big and complicated problems.
We believe that bringing people together from different walks of life, with different views and experiences is the best way to solve problems. Because we're all experts in the things we deal with in our daily lives.
Using a variety of methods, we bring people across the nation together to think about the big challenges. We help people discuss these issues together and come up with ideas about how to solve them. We then work with people, campaigners, industry organisations and decision makers to get these ideas adopted.
The whole process is led by people like you. We don't choose the issues, prioritise them or make decisions about the solutions. We have no political affiliation and no particular axe to grind. Our mission is to make people's lives better by making sure they are involved in decisions about the things that matter most to them.
Why is this needed?
Britain faces a host of challenges that should have been addressed decades ago – such as sustainably funding health and care and providing opportunities for families living in poverty and protecting the environment. Some challenges we know are fundamentally divisive, like immigration. Others, like the coronavirus crisis, affect us all whilst highlighting the problems we've left to fester.
Our approach needs to change. We are perfectly capable of understanding the challenges we face, of engaging decently with each other despite our differences and of finding sustainable ways forward that reach across divides. We need everyone to get involved in making vital decisions about our lives and our society. We need to act now. It's no longer just an option – it's essential.
How we're going to do it
We need to build lasting solutions – not just patch up and paint over, but find sustainable ways forward. In local communities across our country, people are already providing radical, simple answers in tackling seemingly impossible problems. We need to transfer this energy and ingenuity to tackling the challenges facing the entire nation.
We'll bring together a range of different methods to support everyone who wants to be involved. Where the problem is rooted in our differences of opinion, we'll be using deliberative techniques to build on the things we agree on. Where the problem needs new solutions, we'll use design techniques to bring together people with different knowledge and experience to reinvent services. Where key voices have been excluded, we'll make sure we're all equally involved in finding answers.
Through all this, we'll show that our different experiences, opinions and ways of solving problems actually improve debates and help create imaginative, practical and radical responses to the uncertainty of our times.
Read more about the each stage of the process.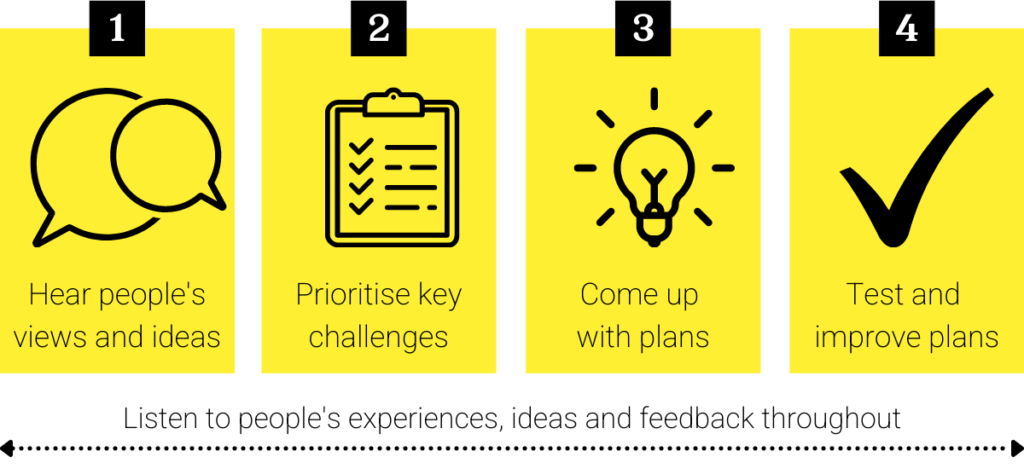 FAQs
Q: How is Engage Britain funded?
A: Our work is funded by donations. We've secured an initial contribution from the Hands Family Trust, the philanthropic trust established by Julia and Guy Hands to extend access across society; we also receive support-in-kind from Regus, the workspace provider. We will broaden our contributors over time.
Q: Is Engage Britain affiliated with any political party?
A: No – we are politically neutral. Our goal is to make sure that politicians from all parties hear from the people who live with the consequences of their policies on a daily basis. We have no political bias. We put identifying, discussing and solving problems in the hands of everyday people.